Okay so I'm not going to make a big post talking about fixtures and formats and stuff - nobody cares. We're just tuning in to watch batsmen biff it against helpless(ish) bowlers.
And my, what a start to the tournament we've had. Choke met counter-choke, but in the end the team with normal hair beat the team with colourful hair by five wickets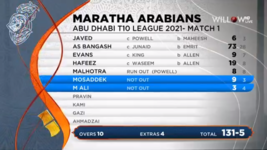 "AS Bangash" appears to be the same Abdul Shakoor who has achieved almost nothing in his career as UAE keeper-batsman. His cymbals and short sleeves behind the stumps give it away.
Honestly, I really like the T10 league. It's junk food cricket and I also love junk food, so maybe it's got something to do with that