Joined

Jun 28, 2005
Location
Online Cricket Games Owned
Introduction
------------
Although I know very little about face making,I decided to make this tutorial so that we can have a lot more face makers.There are a couple of things which need to be looked at by the experts and hopefully we can sort those problems soon.
Tools Needed
--------------
1)A good image editor like Photoshop
2)
BigGui
3)
Fshed
The First Step:Finding the original player picture
--------------------------------------------------
Firstly we need to find the files which contain the original pictures which we will modify.These can be mostly found in the
c2k5 faces thread
.For this tutorial we will try to modify Sachin Tendulkar whose file is db338f7099a935f11997613f1bc5873c.big.
Extact this file using bigGui,use it again to extract the face.fsh file to a directory.Now use Fshed to export the file for editing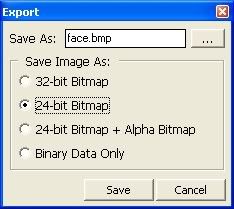 Now open this picture using Photoshop.
The Next Step:Finding a good picture and putting it in the original one
------------------------------------------------------------------------
As we are editing Tendulkar this time,here is the picture I will be using to edit him(open the file in photoshop as well)
Now the most important step,use pen or any other useful tool to select only Tendulkars face,as shown in the picture(Use Feather once as well)
Now copy and paste this in the bmp file which contained the original face.Use Free Transform and Rotate to place the picture properly.
The most difficult step:editing the picture
-------------------------------------------
Try selecting different parts and cut them into layers.
Adjust all the layers properly.Now use the Hue/Saturation tool as well as the Brightness/Contrast tool(both under Image->Adjust) to make the background picture's colour similar to the picture we have introduced.The end result should look somewhat like this.
Now basically apply a bit of colour using the spray tool so that the colour is even throughout he entire picture.
Finally colour the eyes black if you want you can unsharpen every layer(Filter->Sharpen->Unsharpen Mask)
The final picture should look somewhat like this(although mine is not so good)
Now save this picture in a bmp format,use fshed to update this picture in place of the original one that you extracted earlier.
Now use BigGui to replace the face.fsh file.(Basically do the reverse of what you did while extracting the original picture).
Now you may place the db338f7099a935f11997613f1bc5873c.big file in the main folder of Cricket 2005.
This is what my picture looks ingame(not so good again)
Final Words and Bugs in the Tutorial
--------------------------------------
The major bug I have is that the hand textures of the player cannot be changed,so the face and the hands have different colours,hopefully this problem will be sorted out by one of the expert patchers.
Hopefully this tutorial will inspire members to start making faces,and I apologise once again for my lack of quality in using Photoshop.Cheers
Siddharth(sid_19840)
Last edited: