Joined

Jul 21, 2011
Location
Profile Flag

India
TEAM EDITOR 07 v2.0 RELEASED
​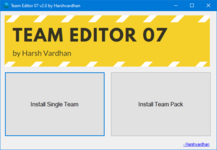 Introducing Team Mods & Team Packs to Cricket 07.
Team Mods are collection of Team Info, Players Info and Kits, Logo, Faces file for a particular team.
Team Pack is a collection of multiple Team Mods.
Team Editor 07 installs Team Mods and Team Pack to HRS2021.ros or any compatible roster made using HRS2021.ros as its base.
Features

​
Edit Cricket 07 Roster using MS Excel on team basis
20 Players of a Team can be edited using MS Excel
Team Name, Abbreviation, Player Name, Attributes, Deliveries, Role, Bat Style etc. all can be set in MS Excel
Logo and Kit files are copied automatically to Cricket 07 Root Directory
Team Editor automatically generate Face file names for players and copy them to Cricket 07 Directory.
Easy to create and install Team Mods
Team Pack feature edits multiple teams at once
Makes backup of roster and 730eef…xml file inside Cricket07 Directory before writing them
Change Log

​
Renamed and redesigned TeamInfo.xlsx to TeamInfov2.xlsx
Simplified 27 no. of player attributes to only 3 i.e. Batting Skill, Bowling Skill & Fielding Skill.
Bowling Deliveries of a player are now assigned automatically according to player's bowling skill.
All 20 players are assigned cap as default.
All 20 players are assigned commentary name as none.
New Bat ID option to assign bat. You will need to take bat ids from bats.xml for reference.
Corrected logo file names for a team
Do not gives error if 730eef…xml not present. Instead creates a default.
Few bug fixes
Prerequisites

​
Team Editor 07 v2.0 is compatible with only HRS2021.ros or any other modified roster with HRS2021.ros as its base. So, you need to find an HRS2021 compatible roster or you can use HRS2021.ros given with Team Editor v2.0
Microsoft Excel 2010 or above which can handle Team Info files.
Microsoft .Net Frameworks 3.5 or above
Credits

​
All credits goes to me for this Team Editor, HRS2021.ros and Team Mod, Team Pack concept.
It's all up to you guys now to make Team Mods and share it to all. Any studios can use my Team Editor 07 and HRS2021.ros to use as base but don't forget to give me the credits for this hard work . Your comments are welcome but please go through the video and pdf tutorial first before asking questions.
Note

​
Team Editor O7 v1.0 teaminfo files are no more compatible with v2.0. Format of excel worksheet have been changed. To distinguish between both version, team info file name has been changed to "teaminfov2.xlsx".
Last edited: