Inspired by the old 'Owzthat' game that many of us played for hours and hours, many years ago, but updated for the modern game. The main drawback in Owzthat was that the roller only had 6 options (6, 4, 3, 2, 1 & OUT), so one in every six balls was hit for 6, and on average EVERY over would contain 16 runs and 1 wicket! That was bad enough in the days of Geoff Boycott, but even Jos Buttler in T20 doesn't score that fast; even England's lower order in Perth doesn't collapse that fast.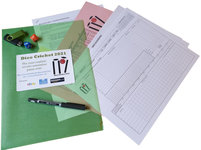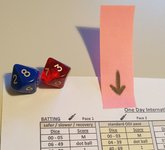 With lockdown hours to fill, I developed a whole new game, based on using two 10-sided dice, creating 100 different possibilities for every single ball, and every single appeal. I'm a Cambridge University educated mathematician, with 20+ years as a maths teacher / tutor, and a club cricketer (& umpire & scorer) for 35+ years, so I used my knowledge of the game and probability, statistics, arithmetic, flow-charts and hours of randomised trials and tweaks to make
Dice Cricket 2021
.
Better batsmen are more likely to score more runs than average ones, and tail-enders will probably score less, but the random element means this is not guaranteed. Innings scores and scoring rates vary according to the type of game, state of the game, state of the pitch, and tactical decisions made. Better bowlers are more likely to take more wickets, but an all-rounder or part-time bowler can sometimes get a star batsman out. Wicket keepers will probably take more catches than outfielders. Many other aspects of cricket are included (at realistic frequency): no balls, wides, leg byes, byes, run outs, maiden overs, changes of pace, changes to the batting order, free hits (in ODI / T20), even a main batsman managing the strike when batting with the tail. All I've left out (by choice) is rain delays and DRS!
All 3 main version of the game are all included: test matches, 50 over One Day Internationals, and Twenty20 games. You can use the names of international players, state / county sides, your own club-mates, or why not combine them and play yourself in the England team in the Ashes
Included in your game pack:
colour probability grids (converting dice scores into cricket scores) to play the game.
3 different sets of scorebook pages, covering test matches, 50 over ODIs, and Twenty20 games.
illustrated playing instruction book.
a quality fine-line scoring pen.
a pair of 10-sided game dice.
a post-it flag marker.
a flash drive containing templates for all the probability sheets and score sheets (no need to buy special scorebooks or pads from me – simply print as many of your own as you want, when you need them).
database files for all 3 formats (in Excel and OpenDocument formats) for recording game stats on your computer over series / tournaments / careers (not essential to play the game, but if you are a bit of a statto like me this might add to your enjoyment), which can track runs scored, averages, batting run rate, bowling economy rate and much more.
These are sold only on
ebay
and
Amazon
UK (just search 'Dice Cricket 2021'), but ebay's Global Shipping Programme means they can be bought around the world, and a few have gone to Australia already.
http://www.ebay.co.uk/itm/265056169122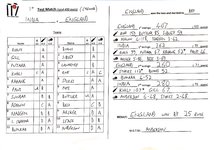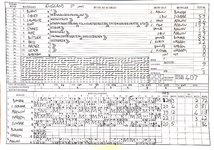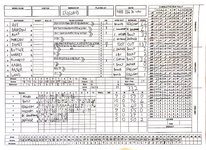 [Promotion approved by admin MattW - thank you Matt].