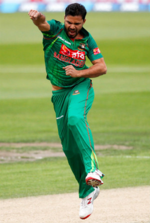 ​
Greetings all and welcome to the
Mashrafe Mortaza Simulation Draft
, my first draft for a long time and one that will hopefully have a similar vibe to the classic
Panesar Draft
. It is so named because your eventual teams will be similar in structure to the Bangladesh teams captained by Mashrafe Mortaza, which usually comprised six key players (Tamim, Mushfiq, Shakib, Sarkar, Mashrafe and Mustafiz) and then a bunch of also-rans who Mashrafe tried to patch up the gaps in the side with.
The rules will be as follows:
In this draft, you will be seeking to select One-Day International teams, and for a player to be eligible they must have played at least one One-Day International match.
For each of the first five rounds, you will need to pick one player for your team, and one player for the lottery.
At the end of each rounds, the lottery players will be assigned to people's teams via RNG.
All players in the team must be selected in a role that they've played before - for example no opening the batting with Ben Stokes as he's never done that before, but also no hiding Francis Otieno at number eleven as he's never done that before either.
In the sixth round, you will pick the player that will complete your playing XI, and the lottery will pertain specifically to the 12th man.
All other usual draft rules apply.
I am looking for a
maximum of six
people to take part, as I don't want this to drag on for too long.
Participants
FINISHED TEAMS
Draft Order
Last edited: