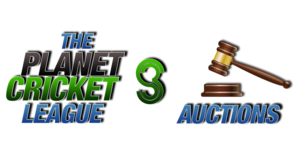 AUCTION RULES
Only the owners (@Till Valhalla / @RUDI / @WutUpMahGlipGlops @Na Maloom Afraad | @CerealKiller / @AsadRM / @Parth D / @Pinch hitter | @Ashutosh. / @Bilal45 / @Manish. @Salman. | @AJ MODS / @Life Warrior / @VDQuint ) are allowed to bid. Please discuss strategies in PM. This thread is for bidding only.

Each team shall have a budget of $15,000,000, except the Wild Force who shall have a budget of $18,000,000.

Base price of every player is $500,000.

Minimum bid increments of $100,000 are allowed.

Deletion of Bids is NOT allowed.

The time limit would be extended should a team bid in the final 10 minutes of the time span, to allow for a fair auction.

If a team has active bids more than their budget would allow, they would be penalised $200,000 from their budget, after one warning.

One team can have only 4 active bids at a time in one round.

After the auction and the drafts, each team must consist of at least 16 players, with at least one wicket keeper and seven bowling options.
Last edited: