​
Aditya: alright, we're all set for the toss then, let's go straight to Nasser Hussain.

Toss with Nasser Hussain​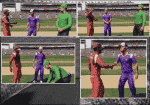 ​

Right, we're very close to the toss time then, I've got with me 2 legends of this game, Shane Warne and Sachin Tendulkar and along side them is the match referee, Chris Broad.



Warnie, you've the coin, give it a little spin please.



*HEADS*



And heads it is, Sachin you've won the toss, what will you do?



*Huge chant from the crowd - Sachin Sachin!!*
​




Yes Nasser, we're going to bowl first. The starting bit of the first innings should prove to be handy to the bowlers and that I believe should pretty much be the time to capitalize and get some early wickets.



Jeez, it's been a while since you last played. How are the nerves doing?



There's always a little nervousness before you step onto the cricket field but I'm feeling fine right now, we're all here for a special occasion and I'm sure this will be a very good match.



It sure will be Sachin, good luck!



Warnie, would you have batted first as well?



Yes Nass, pretty much. As Sachin said, the first few overs may go in favor of the bowlers but apart from that, this is pretty much a batsmen's surface with a bit of grass on it, which wouldn't be too useful for the bowlers.



You were with us commentating about 2 weeks ago and now you're playing in the Lord's cricket ground, how does it feel?



Special, very special. The build up to this game has been truly marvelous, we weren't forced to practice so that was a sigh of relief (grins). It's good to play with and against all these wonderful cricketers, I'm very much looking forward for the match to begin.



We all are Warnie, cheers and do well.



Cheers Nass!
Aditya : So that was the toss, MCC XI won the toss and elected to bowl first.

Aditya : We're minutes away from the start of the match but before that, we've to announce the winners of the previous contest and introduce the next contest for our viewers.
Winners of the previous contest: Dipak, Davoo, Sulaiman7, surendar, Meet. Congratulations, you all have won 1,000 vCash reward each.
​
PS : Random.Org will be used and whichever number (1-4) comes up will be declared the best catch. The members who participate in this contest, among them whoever random.org chooses will be adjourned the winners (3 winners to be selected).
Aditya : the batsmen are coming out to bat, it's time for a short commercial break, do join us on the other side as we catch the live action from Lord's.
Last edited by a moderator: