Black Belt in Statsguru
Moderator
Ireland
PlanetCricket Award Winner
X Rebels
Joined

Sep 3, 2010
Location
Greetings all and welcome to the
All-Time One-Day Draft!
My first draft in a long time not to have some sort of gimmick where we all get stuck with terrible players.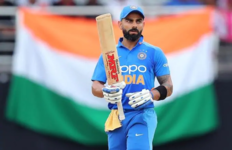 ​
The rules for this draft are simple:
You will be picking a team of eleven players, plus a 12th man who will be chosen exclusively for their fielding ability.
In order to be eligible for this draft, a player must have played in at least one List A match. You are allowed one exception to this in order to pick a player who played in a time before one-day games were invented.
You need to pick at least two players out of your twelve from non-Test countries. This can include your 12th man, and can be from a country that would later play Test cricket (Rashid Khan would count as such a player).
All other usual rules apply.
1.
Chris Gayle
2.
Sachin Tendulkar
3.
Virat Kohli
4.
Viv Richards
5.
Ryan ten Doeschate
6.
Richie Benaud
7.
Richard Hadlee
8.
Ian Healy
9.
Fred Trueman
10.
Derek Underwood
11.
Joel Garner
12th man -
Dwayne Leverock
This team would be eligible because all but one of its players played in List A cricket (Benaud being the only exception) and two of its players played for non-Test nations (Tendo and Leverock). Whether or noot it is the best team possible is entirely up for debate.
Participants
(there will be no maximum)
Draft Order
(it's a long one)
Round One​
Last edited: